The Look Ahead: Eagles Seek Victory Against the Mighty Bison
Written by: Kolby Cowher on Thursday, October 5th, 2017
Each week of the season the Tyrone Eagle Eye's Kolby Cowher will preview the next week's matchup.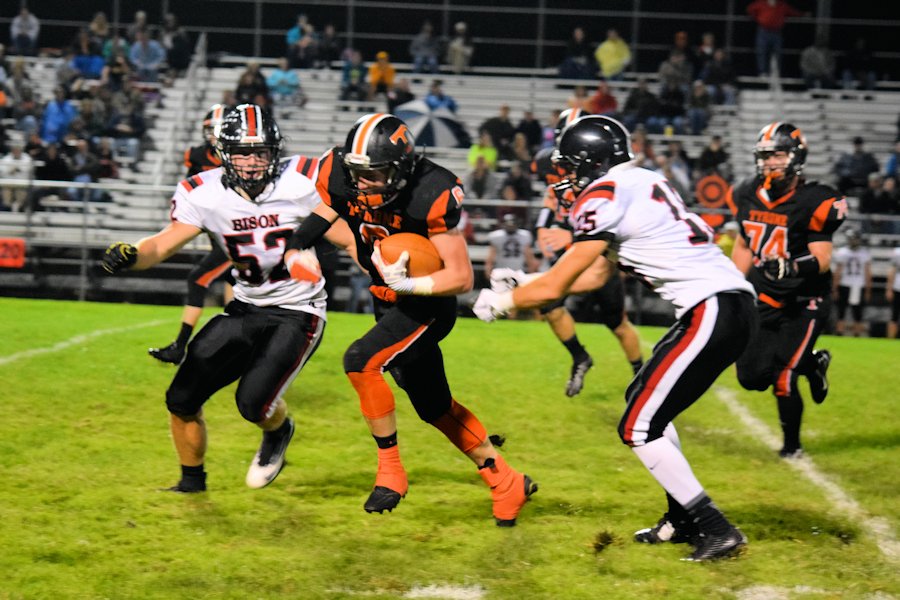 Eagle Eye File Photo
The 2-4 Golden Eagles seek another victory this Friday against the mighty Bison of Clearfield. This matchup should be a good one.
Thanks to senior Brandon Loose's three touchdowns and junior Aric Reader's fumble recovery for a touchdown, the Golden Eagles were able to fend off the Bald Eagle forces en route to a 27-19 victory last week.
On the other hand, last Friday was not so great for the Bison. They held their own against Bellefonte going into the half, but the Red Raiders proved too much to handle for the as they marched to a 55-28 win.
Tyrone's season can once again be in the balance. Another loss could potentially bar the Eagles from entering the postseason. The Golden Eagles showed promise on nearly every front versus Bald Eagle and look to improve further against the Bison.
The Bison defense was not at it's best last Friday, giving up 55 to Bellefonte. They have proved themselves however to be a powerful foe as they shutout the DuBois offense a few weeks back. If the Golden Eagle line can fire off the ball low and quick, the offense will surely pick up some yards.
The Bison offense has been great at times but has showed some weaknesses. When they win, they win big, when they lose, they lose big. They are going to be quick upfront, that's to be certain. Containing this Bison offense can prove extremely troublesome and cannot be taken lightly.
Tyrone was firing on all cylinders last Friday and hope to do the same. The Golden Eagle offense held their own, the defensive play was solid and the special teams was on top of their game. "Their special teams better be ready for el toro," said senior Matt Davis.
If the Golden Eagles can amount an assault like they did against Bald Eagle, the mighty Bison of Clearfield should not be a challenge.
Follow WesternPAFootball.com on Twitter @WPAFootball
---
Leave a Reply